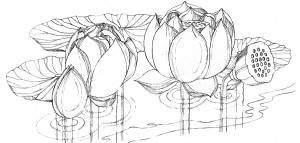 The Columbia Zen Buddhist Priory is a branch temple and meditation center of the Order of Buddhist Contemplatives, an international Buddhist organization of monastic and lay members founded by the late Rev. Master Jiyu-Kennett.
The Priory is dedicated to the tradition of Serene Reflection Meditation, which emphasizes silent meditation, mindfulness in daily life, and guiding one's life by the moral Precepts of Buddhism. These are the cornerstones of Buddhist practice, the means by which one may come to know the Truth for oneself. The Priory, with Buddhist monks in residence, offers instruction, guidance, and support for this practice.
Rev. Rokuzan Kroenke, the Prior of the temple, is a senior disciple of Rev. Master Jiyu-Kennett. Ordained as a Buddhist monk in 1975, he was named by her as a Master in 1987.
Rev. Rokuzan recently appeared on a short local TV broadcast; find out more  here.
Starting September 19th, a new series of talks: Fundamental Teachings Of Buddhism by R.Leon
Our day to day Practice
We offer an
orientation
to our practice and a weekly
schedule
of meditation, services, and classes. The orientation is available by reservation on Fridays at 6:00 PM.
Those new to the Order of Buddhist Contemplatives are asked to attend an Orientation before joining our other activities.
Please call (Contact) before visiting the Priory
.
Supporting the Priory
At the Priory, we follow the ancient practice
Dana
, the perfecting of giving, and the temple is supported entirely by kind donations from our congregation and friends. There are no fees of any kind for instruction, or participation in Priory activities. For more information about supporting the temple go
here
or click the "Donate" button in the sidebar to make a donation.